Cruising Mexico
'Agua Verde' visits Agua Verde
The Mexican flag on the Ensenada foreshore is clearly visible from miles out to sea and offers the visiting sailor a cheery and colourful welcome. Indeed we were warmly received everywhere we went in this multi-faceted nation and deepened out particular affection for its friendly population. Entry paperwork was quickly completed and after a couple of days leisurely attending to our remaining provisioning chores we set off down the Baja coast.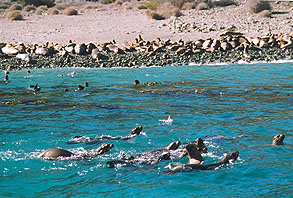 The weather was warm and sunny, the winds fair, and we enjoyed easy fast sailing skimming along just a couple of miles offshore. Anchorage was taken each night in the lee of headlands until reaching Punto san Carlos where we turned SW on the 80 mile overnight passage to Isla Cedros. Brisk winds and a rising sea, combined with almost total darkness to keep us keenly focused on watch as we surged and bumped our way through the night. Daybreak found us fast closing the island and just as the morning sun started to radiate significant warmth we dropped anchor close by a sea lion colony in a pretty little bay sheltered from the prevailing NW winds. We were quickly surrounded by the pups bursting with curiosity and vitality and were entertained royally by their antics.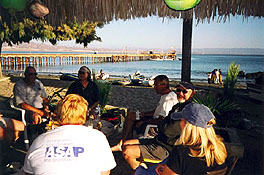 Three days later saw us pull into Bahia de las Tortugas (Turtle Bay), a large well sheltered anchorage and the first of two safe havens for the cruising sailor on Baja's outer coast. A small village offers the first shore side amenities for several hundred miles, a handful of small restaurants and stores, a gas station, and a minimalist beachfront cantina selling ice-cold beer. All this and the absence of the ever present swell 'outside' has made it a must visit stopover on the cruising itinerary. Several other sailboats were anchored in a cluster, a dinghy's row from the cantina, and we were quickly given a lively account of the local attractions. It's not difficult to see why some 'yachties' linger here enjoying the laid back ambience of this remote desert community.
250 miles to the south the sailor reaches the lagoons that are the calving grounds for a large portion of the Pacific Grey Whale population, and while we were too early to see the spectacle, we enjoyed the tranquility and wide open beauty of Bahias Santa Maria and nearby Magdalena. Some of the shallows used by the whales are off limits, but in January and February just prior to their northern migration, the whales spill into Mag Bay, as it is sometimes called, and offer a ringside seat to caetacean family life.

One more passage saw us bowling along in a strong breeze running down into Cabo san Lucas, the wind blowing the tops off the deep deep blue of the big following seas. The signature arch on Lover's Beach is every bit as impressive as the post cards suggest, and is a fitting landmark to define the terminus of the peninsula. Cabo has undergone a massive transformation from modest fishing village to a very busy destination resort and the growing pains are much in evidence. The natural setting and the outstanding beaches though still delight the eye, and after searching unsuccessfully for a spot in the new harbour we felt lucky to pick up a secure mooring just outside. Initially dazed by the bright lights and bemused by the frenetic activity we quickly adjusted, and over several days sampled with considerable relish a fine assortment of what the local restaurants had to offer.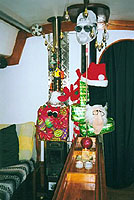 The Advent calendar however was clicking away and we thought we should carry on into the Sea of Cortez and thence northwards to La Paz for Christmas. Things started off well as we rounded the southeastern foot of the peninsula well ahead of schedule, and instead of anchoring at Los Frailes as planned, we pushed on northwards 45 miles with the revised goal of reaching the next safe but remote ancorage at Ensenada de las Muertes, the ominous sounding Cove of the Dead. We got there allright, albeit late at night, but had to power our way into a rising northerly for the last two hours. We had far exceeded our target for the day but next morning the wind strengthened considerably against us and we acknowledged that Christmas in La Paz was out of reach. We quietly grieved the absence of company but made our preparations for a special occasion nonetheless. Hope was raised however when late on the afternoon on Christmas Eve a speck of a sail boat appeared on the horizon heading our way. Could it be anyone we knew? As it slowly grew larger and took shape, we were able through binoculars to identify the vessel in question. Santa Claus on his sled with Rudolph prancing over the waves couldn't have been more welcome, and we rejoiced to share the festivities with friends whom we had met in San Diego on the way down. A Merry Christmas one and all!
La Paz, the state capital of Baja Sur is an old established town ideal as a sailing base for the southern Sea of Cortez and particularly friendly towards cruisers. After initially anchoring off for two days and being swept hither and yon by the notorious local tidal currents we opted for the security of a marina. This done we proceed to enjoy anxiety free city life. Happy hour at the marina restaurant/bar, seafood tacos from sidewalk stalls, walks along the attractive promenade (Malecon), shopping in the old town, and exchanging stories with other cruisers on the docks, all contributed to a relaxed and wonderfully satisfying sense of mid- winter wellbeing. We even dressed up for dinner on New Year's night.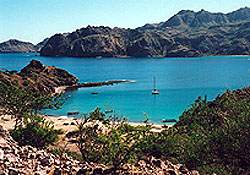 One of our main objectives on this cruise was to take "Agua Verde" the boat, to Agua Verde the place, a celebrated coastal beauty spot about 100 miles north of La Paz. Formed within the confines of a semi-sunken volcano the bay enjoys a special reputation among cruisers and we were keen to check it out. Secretly we mildly dreaded the prospect of it falling short of what we imagined it to be, but happy to say we were not to be disappointed. We found the location to be enchanting. Bahia Agua Verde is blessed with emerald green water, white sand beaches, inviting coves, and a dramatic rock pillar at its entrance. All is contained within a magnificent semi-circular backdrop of towering volcanic mountain slopes richly clad in darkly lush vegetation. The only sailboat there, we marveled at its splendid isolation, dived its reefs, strolled its sands, hiked the surrounds, barbecued on the beach and in our pigeon Spanish engaged the local villagers and fishermen. What a wonderful place!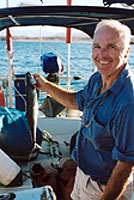 The Sea of Cortez continues north for several hundred miles with much to offer the cruising adventurer. We explored several of the islands and anchorages from Puerto Escondido southwards, and were enormously impressed by their beauty and scope from a cruising perspective. The craggy colourful volcanic shores are indented with beautiful bays, pristine beaches, clear waters, attractive anchorages and an abundant wildlife. Without trying too hard we were even able to catch fish for supper. The weather in January was just right, nicely warm without being overly hot. Top marks all round! Somewhat reluctantly we dragged ourselves away and set course for Mazatlan, 250 miles to the southeast, reluctant to leave the islands that is, but looking forward to meeting up with family and friends on the Mexican mainland.
After a smooth fast crossing we entered the main harbour at Mazatlan just before daybreak. An enormous cruise ship slipped in ahead of us lit up like a small city, and we followed in her wake at a discreet distance. Notwithstanding its service to us as a pilot, the entrance seemed exceedingly narrow and we marveled at how the big guys do it. On connecting with our friends we relocated to a marina complex north of the city. Very laid back we found it, with an informal pallapa style bar and serving among other Mexican delicacies a very fine fish taco. It wasn't summertime but the living was definitely easy.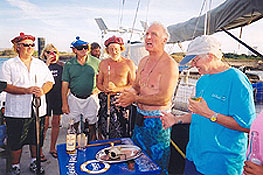 The peace however was transitory as a suggestion was made that we not let the upcoming Robbie Burns Day pass without honouring the occasion. The twenty fifth of January therefore duly found a sympathetic portion of the cruising fleet down on the dock toasting Scotland's national bard, singing his songs, reciting his poems, and feasting on haggis that flew in especially for the occasion. Any excuse for a party.
By now our time in Mexico was running out and we spent five of our last ten days slumming around the swimming pools of the El Cid resort, sipping margaritas and being generally seduced by the decadence of it all.
Time methinks to move on yet again.
sv. Agua Verde
Lahaina
Mauii, HI.
Part 1 of 3 US West Coast
Part 2 of 3 Mexico
Part 3 of 3 Hawaii