Vancouver to San Diego
The good ship Agua Verde is snugly tied stern to the wharf in Radio Bay. To the west of us the huge volcano of Mauna Kea at just under 14,000 feet serves as a magnificent backdrop to the picturesque old town of Hilo. Looking fresh and colourful, nestled up to the deep blue of the bay, its 40s and 50s style buildings have been tastefully restored just back from the black lava foreshore. Add in a generous sprinkling of Banyan, Monkey Pod, and Palm trees, feel the warmth of the North East trade wind washing gently by, and you have a recipe for what the
South Seas was like before Conrad Hilton started building holiday resorts.
We left Vancouver October 2nd, just in time to avoid the onset of late Fall weather and made San Francisco in under a week. We still had our share of wind however, having been overtaken by a Northerly gale off the California coast. Being blown along under blue skies in the right direction with little or no sail up is quite a rush, and left us all with a greater appreciation for the folk who designed and built our vessel. Agua Verde took a breather waiting for the hurricane season to pass in Mexico, and then headed out again under the Golden Gate Bridge with a fresh crew. This time the Mexican tall ship Cuatemoc was entering port under full sail as we squeezed by outward bound. We felt very privileged to have been there to witness the sight. Truly splendid!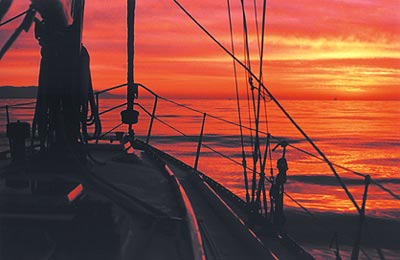 Cruising the southern Californian coast was a real treat. Firstly we had mostly sunny skies and warm breezes which always goes down well with those of us who live north of the 49th parallel. We also saw an abundance of wildlife, the highlight being a close encounter with a pod of about a hundred killer whales (Orcas) off Hearst Castle at San Simeon. Stops were made at Moro Bay and Santa Barbara, both lovely places to visit, before heading on into Marina del Rey in Los Angeles. A rainstorm beset us while here and we made use of the time by catching up with chores on the boat. Nearby Venice Beach ranks high in the entertainment stakes, and we also spent one of our rainy days at the Ghetty Museum. As teenagers would say…Awesome!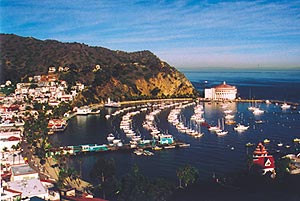 Continuing on southwards we detoured to Catalina Island which was a very pleasant surprise and quite dispelled my negative mental image of the place. It's largely unspoiled in spite of its proximity to the metropolis of LA, and can boast of beautiful desert island scenery and crystal clear waters. Newport Beach was another delightful staging stop down the coast. The harbour is quite a sight what with the proliferation of fancy yachts and even fancier waterside homes. By this stage we must have felt we were living in fantasyland, and decided to round off the whole experience with a trip to Disneyland. Even recalling it now makes me shake my head a little.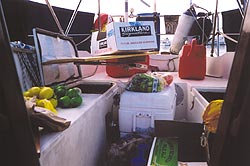 And so on to San Diego, last stop before heading down the outer Baja coast of Mexico. This is where one has to get serious again and work through another round of seemingly endless To Do lists. Well somehow it all got done and the second week of November saw us casting off the lines yet again, hurriedly trying to recall some simple phrases in Spanish. Next stop Ensenada.

Colin, sv. Agua Verde, Hilo.

Part 1 of 3 US West Coast
Part 2 of 3 Mexico
Part 3 of 3 Hawaii